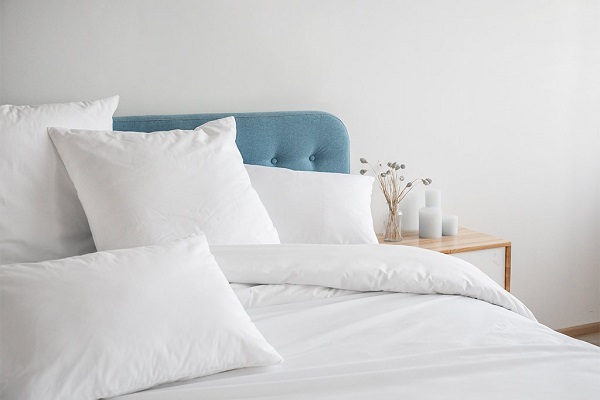 Bamboo has a natural beauty to it. Bamboo sheets are a symbol of luxury, and a higher thread count is indicative of a higher-quality product. Pure bamboo bed sheet sets are made entirely of organic bamboo and have a higher thread count than lower thread count sheets. They are the environmentally friendly king of fabrics and the best option for sleep aficionados. You can find the bamboo sheets as smooth and luxurious as silk at the Snoozy Monk, which you can use in the same ways as cotton sheets. Read more here about the best bedding set for winter 2021 so that you will gain better ideas on the latest trends.
Why Is Bamboo The Best Material For Bed Sheets?
Bamboo is a versatile and durable fabric that is great for texture and comfort whose natural fibers can wick away moisture. Bamboo quilts and flat sheets are great for achieving that organic, boho aesthetic. The significance of using it in making bed linens includes:
They are excellent at regulating your body temperature throughout the night and preventing you from waking up soaked in the morning.
Bamboo sheet sets are antibacterial and hypoallergenic and are suitable for use by anyone, including babies.
Bamboo sheets are not inexpensive, but they are also not prohibitively expensive. However, you should read the care instructions that come with them and change your sheets regularly.
Bamboo fabrics are superior to cotton and other fabrics in critical criteria such as durability and breathability.
Bamboo fibers are made with less water than cotton and are chemical and pesticide-free.
Bamboo bedding is gentle on the skin and hair and is an excellent option for chemotherapy patients. With a low friction coefficient, they make an excellent choice for people with frizzy hair.
Bamboo sheets are resistant to mites, mould, bacteria, and fungus growth and are the best choice for people who suffer from asthma or allergies.
Bamboo sheets are long, stretched-out fibers resistant to discoloration and staining. They can last for up to ten years.
How To Care For Bamboo Sheets?
Bamboo sheets are slowly but steadily gaining popularity and will soon be as widely used as cotton and silk. Their sheets, blankets, and comforters can help you get a better night's sleep. Bamboo sheets can be machine washed and dried, but some products may need to be professionally cleaned. The two main points to consider while maintaining them are discussed below. Doing this will allow your bamboo sheets to stay with you in good form for many years.
Bamboo sheets and toppers can be ripped apart with hot water, so avoid washing them with clothing that has oversized zippers, hooks, or buttons.
Storing bamboo bed sheets for a long time is not a big deal, but they can last for years if you dry and air them out.
The Takeaway
Bamboo bedding offers many advantages over other high-end materials, including silk, Egyptian cotton, and eucalyptus. They are a great option for temperature regulation, and maintenance is also effortless as they are machine washable, whereas silk sheets must be hand washed.