Top DIY Fall Wreath Ideas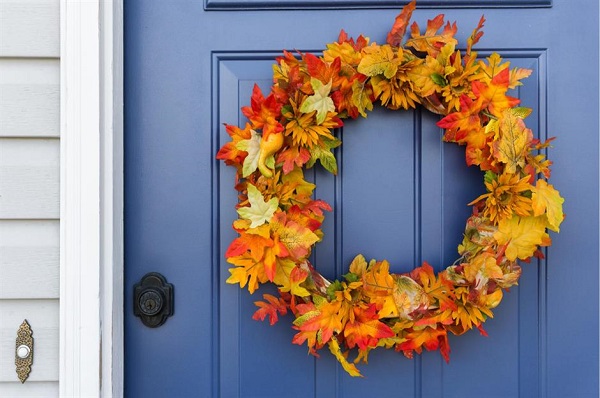 Make Your Fall Wreaths
One of the easiest ways to change the appearance of your home is to use a wreath. To add some personality and flair to your home, hang a well-designed wreath on the front door, mantel, or window throughout the year. We recommend changing the wreaths regularly to keep your space fresh and modern. Fall is a beautiful season for crafting and a season for fall wreaths canada will look forward to. Here are some top DIY fall wreath ideas for you.
Get a modern look by using air plants and a wireframe.
A wire wreath with some big succulents gives the impression of fake flowers floating in the air. Hang the wreath on a window or door, or even it can be used in several other decorations. Learn more here about stylish Easter decorations.
White pumpkins may be used to make a Christmas wreath.
Pumpkins, beautifully colored autumn leaves, burlap are all prominently included in the best fall wreaths. However, you are not limited to fall-themed decorations.
In some wreaths, white pumpkins are used instead of orange pumpkins. Rather than relying on warm-toned maple leaves, the design includes green botanical greenery and moss. You don't have to be afraid to experiment with new components.
To celebrate the season, make a wheat wreath and decorate it with feathers.
A wheat wreath is a popular choice for fall wreaths in farmhouse-style homes. It is made from wheat. This wreath is simple to make, but correct placement is essential. Make sure your wheat bundles are of different lengths to avoid the wreath seeming too uniform or choppy.
Golden yellow is a wonderful color to choose if you want to add some color to your space.
Warm jewel tones are prevalent in fall decor, but a monochromatic flash of golden yellow isn't to be overlooked. This color combination looks great if your door is a cool-toned purple or blue.
Go For Rustic Styles
Wood Slices may help you achieve a rustic appearance.
Among the many wood slice crafts for fall, this wreath is one of my favorites. It's simple to make and looks great. The rustic style is more masculine, and that is the reason there is a lot of raw wood elements. If you believe the wreath is too masculine, add brown or neutral-toned flowers to the lower-left or bottom-center.
Contrary to popular belief, you don't have to stick to the traditional fall color palette.
It's wonderful to see a wreath with delicate pastels and flowers after so many deep-crimson-toned fall wreaths. Fall wreaths often include decorative and fake hydrangeas. Rich browns, burgundies, oranges, reds, and other colors are common.
For the fall season, make a burlap bubble wreath.
Burlap bubble wreaths may be made in several ways due to their flexibility and low cost. After you've mastered the basics of the burlap wreath, it's easy to change it for different seasons. You may easily change out the seasonal components since the decals are detachable. Velcro may be used to hold the fall leaves in place.
Fall berry sprigs are a great way to add depth and complexity to your fall wreath arrangement. They're also inexpensive. It can be boring to use only berry sprigs. Matching fuzzy sprigs can add interest to the base of this fall wreath.